2014.07.12
I come back from stretch exercise, and darling said "momo is in the freezer" Hooray! My love momo time start!
The first ones come from Yamanashi 山梨産モモ(small, 80yen). It came out quickly since typhoon was coming, so it would be better to pick them up even they are a bit small, better than get destroyed by typhoon. First one was the quite raw hard one, which is good for making jam. It was hard to peel and hard to eat, and not that sweet yet by noon. In the afternoon when we went back to buy more for jam, most of them turn soft already. However, good ones smell good from bottom, others hardly have momo aroma. Had two soft ones at night again, skin easily come off, and juice keep dropping while eating, that would meek quite a lot of momo juice next time 😉 *notes, two hard ones were leftover for next day. However it did not turn as soft and sweet as others. One of them the bottom "belly button" was taken while washing, and later it grew little flys inside 🙁 also taste not good* so good smell from momo bottom is quite helpful for choosing yummy ones 😉
2014.07.13
Futoyasan brought us a fruits box of 3 momo, a bunch of grape and a melon. Though it was from Life, it was still juicy and nice, less sweet than some of the 山梨モモ. We had it as morning tea with milk tea. Had some juice into milk tea made it even better <3
2014.07.19
After a while, we finally bought one momo from Vege庵おうみ, their own momo from 滋賀県, small one for 250yen. Well, we left it outside for a couple of hours and freezer less than an hour to cool down. It was very sweet but quite damaged. Oh well, momo are very sensitive anyway.
2014.07.24
After the last momo, I was a bit afraid to buy another one until today Darling said want something juicy 😉 same size, same prize 250yen. We have got three of them, two of them we had at the same night, two hours in fridge, was in good condition, sweet and nice aroma. But for all momos, only top parts are sweet, that's why we usually cut it into segments, so every segment had all flavours. But Darling like to give it a big bite on the top and says didn't know it was the best part, haha.
2014.07.25
Mom come back home with two large size momos from おばあちゃん, and a Mexican mango 😉 mango was not juicy, but meaty and chewy. At midnight we had momo from 滋賀県Shiga first, it was very sweet, then when it comes to the big one, it was very very juicy, the juice even splashed when Darling bite it, but the sweetness wasn't impressive. So I guess it might be really hard to grow sweet momo. However, the next day when I asked mom, she said the other momo she had was so sweet, should be very expensive one. Well, maybe momo are different? Or the first one we had was too sweet? We will never know now 🙁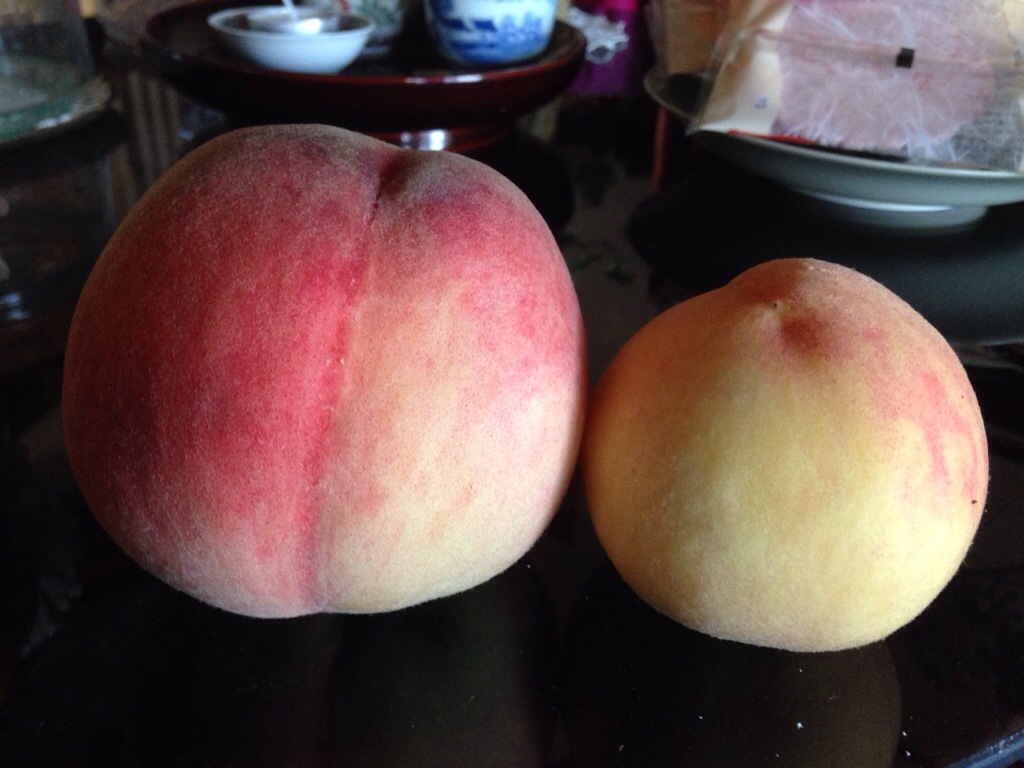 2014.07.26
Got a big 和歌山県清水白桃 momo from Pantry, one for 480yen! Oh god, well, it's actually usual price for such big momo, and white ones are usually more expensive. They are different type, but not so sweet, juicy indeed, flavor is more refreshing like its name 😉 but maybe I prefer small red ones now, only for now. Going to explore more and more types this year, lucky!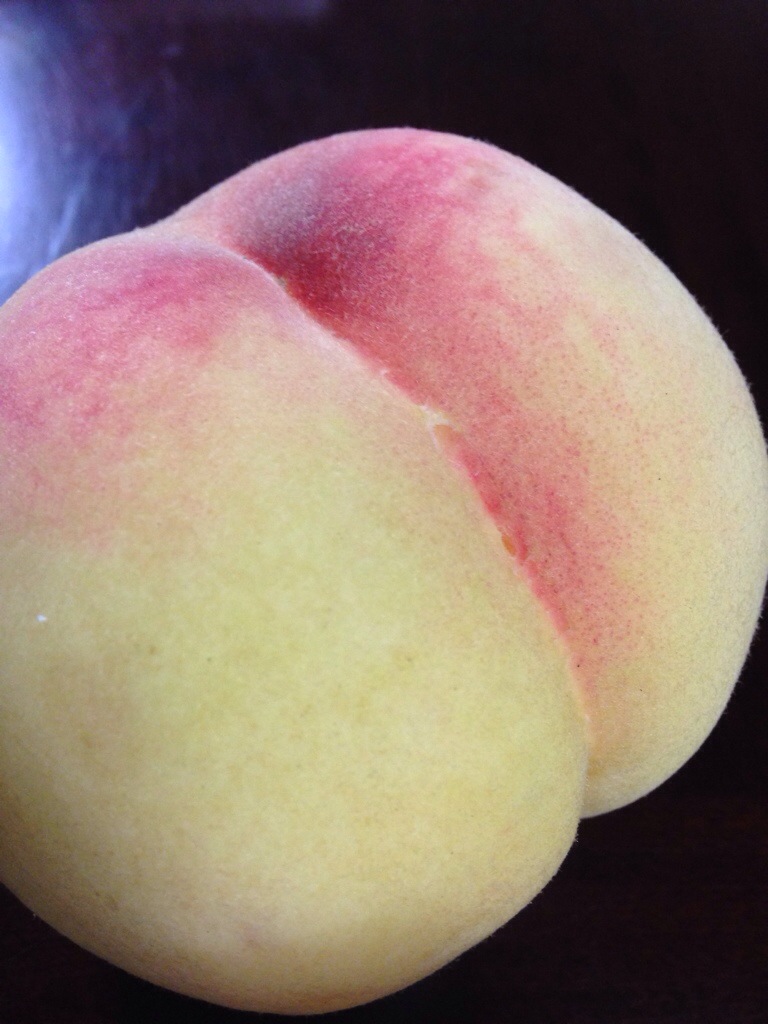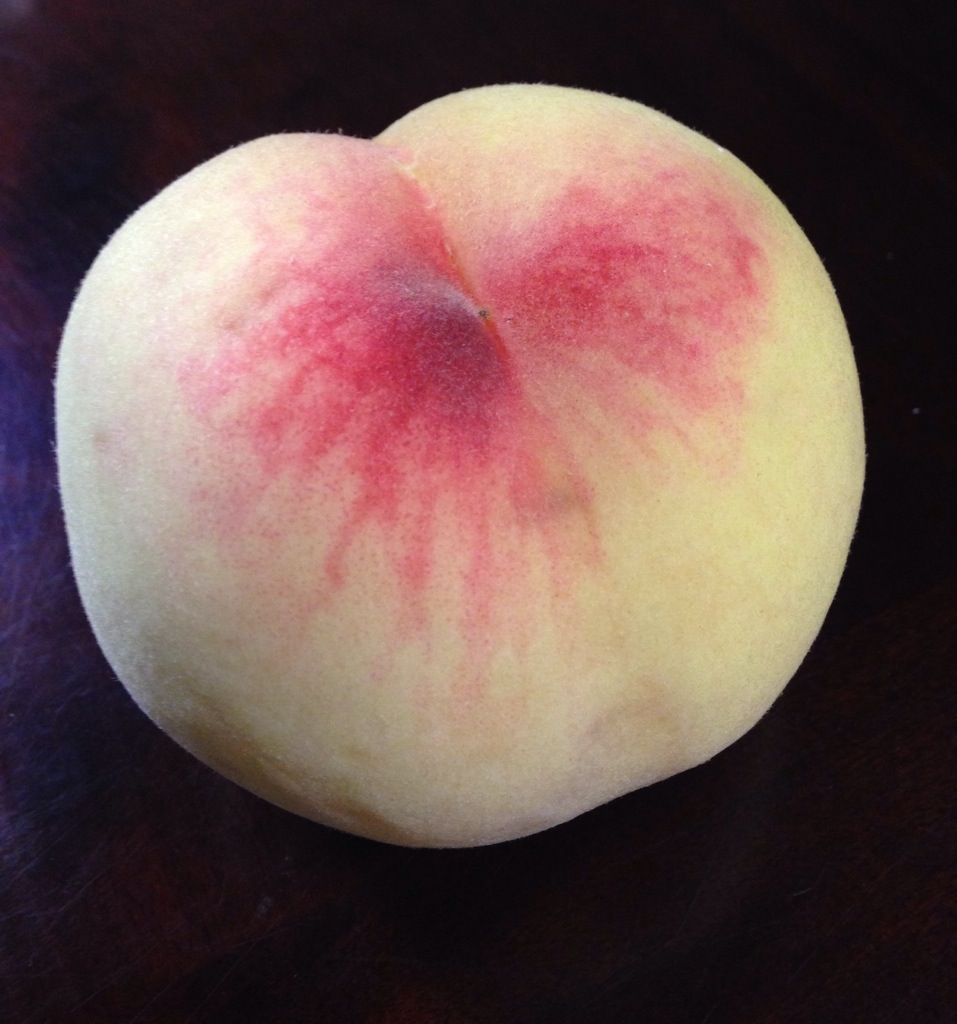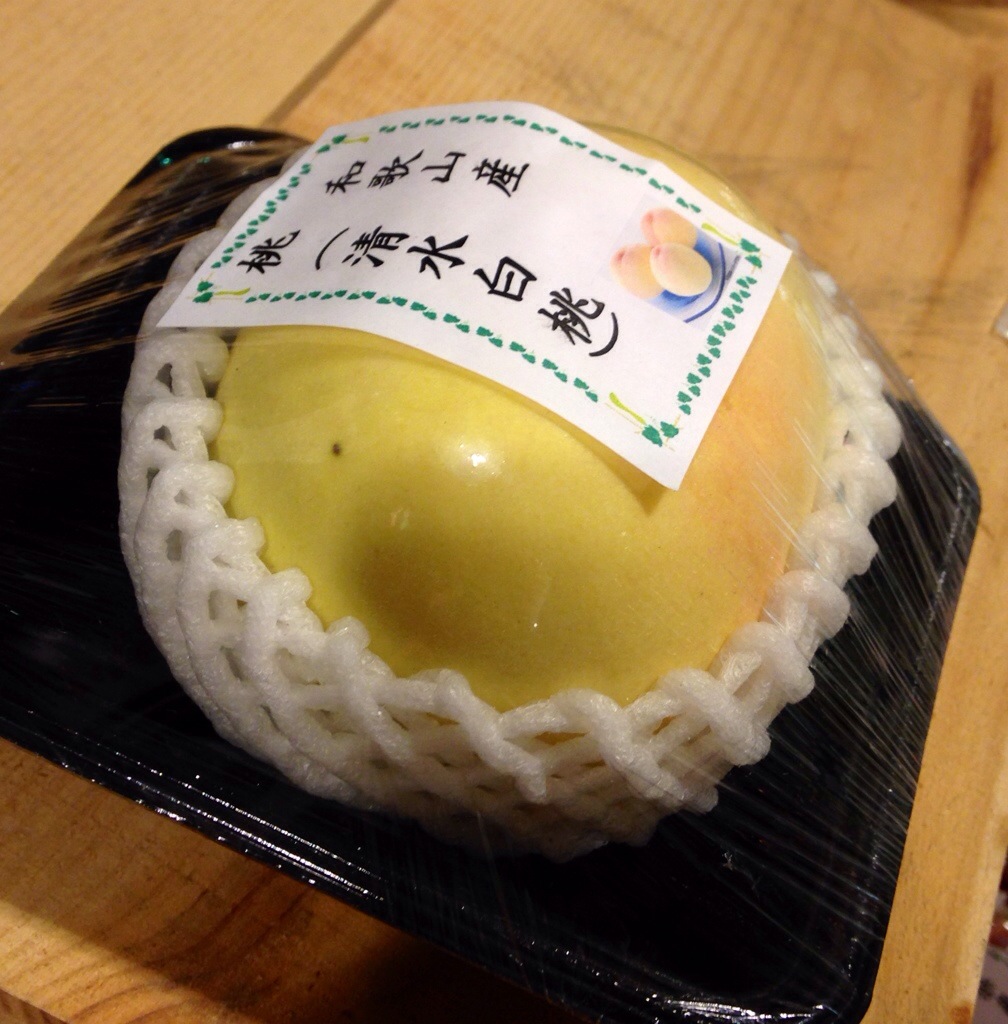 2014.07.28
Got a free 滋賀県 momo from vege shop since they were closing and momo are not in good condition. Indeed it was damaged (skin broken) a bit, and molds grew a bit, and the flavor changed quite well too. 🙁 not to expect too much from end of their life.
2014.07.29
Still no new momo arrive to vege shop, but luckily we got three momo from uncle. He got a whole box possibly was 金沢市 momo, and he gave out to people. Big pink ones, no pictures since they were quite damaged too, no mold though, might be too old and hot outside, that I need to cut off some parts. Quite juicy, but aroma was not strong and not too sweet. Specially, this one skin was noticeably thicker than others, and harder to peel except the damaged parts.
2014.08.01
Waited and waited until today, we were told that this year's momo were not good and there were no more coming :(:(:( we understand it is very hard to grow good ones without chemical, and the weather didn't do good job as well. Have to pray for next year.
2014.08.02
Pass through some local sale of momo on the way to kamiro and they sold one box of big momo for 4500-5500yen 🙁 look good but we don't need that much. Got two small ones from 羽曳野道の駅 two for 290yen.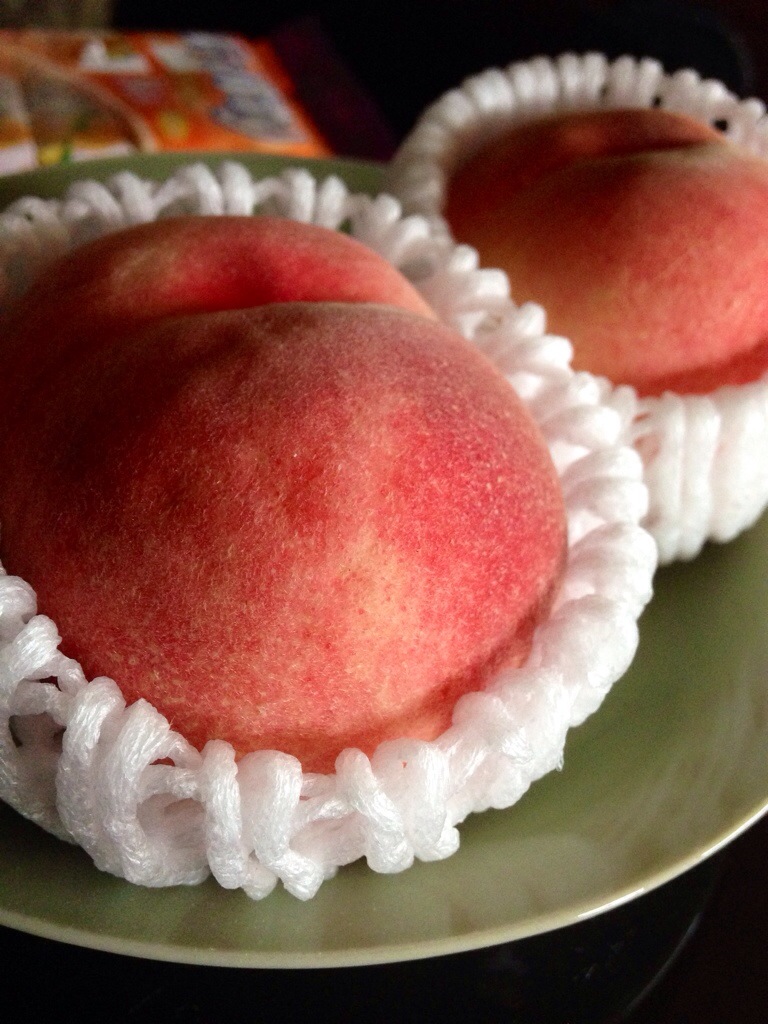 2014.08.05
Left the momo in fridge for one day and had them this afternoon. Bottom skin was hard to peel and one of them was quite damaged. There were white layer between pink meat and skin, not sure whether that different kind or just too old. But they were very sweet, different from 滋賀県 momo but sweet sweet, worth for the money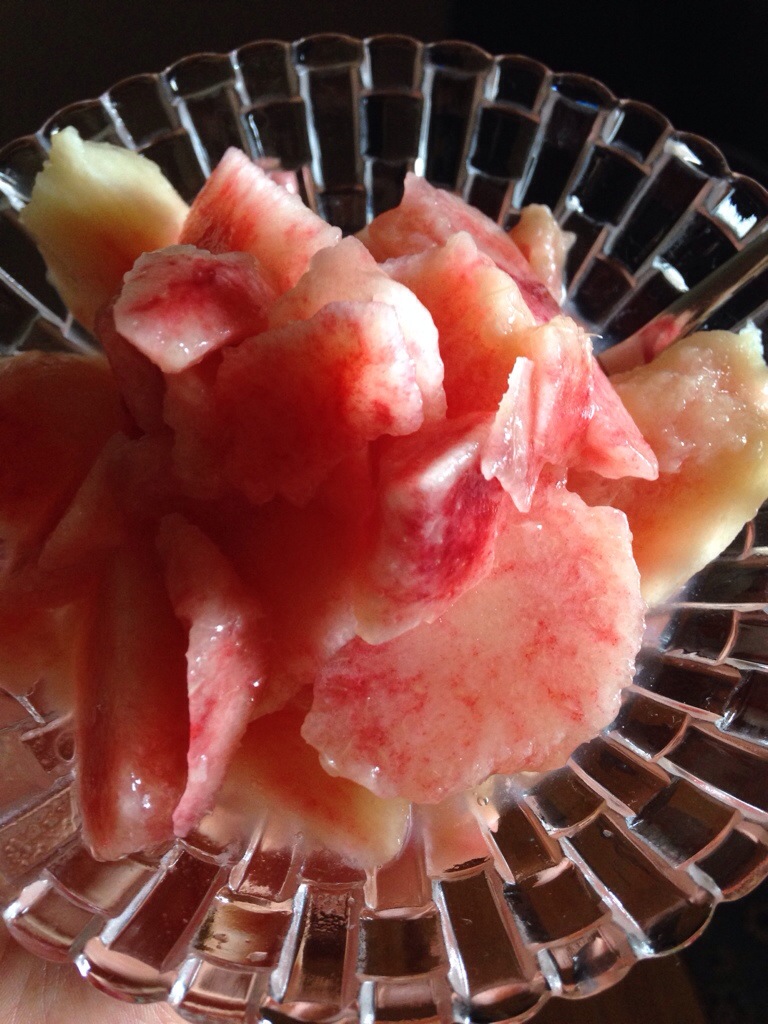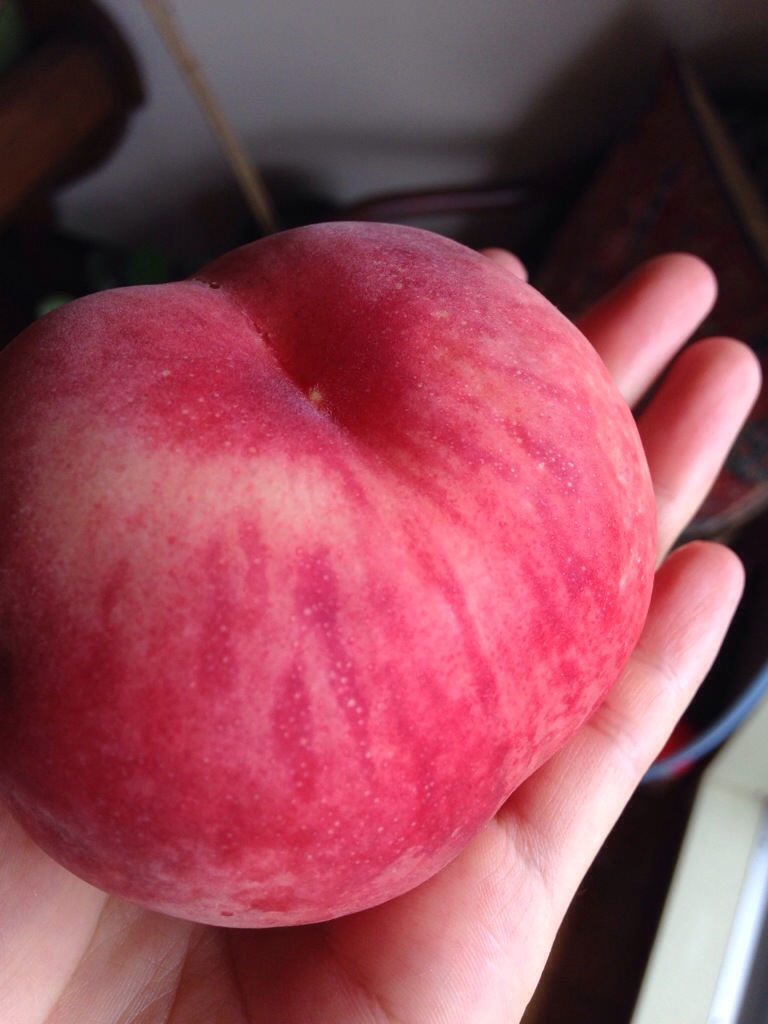 2014.08.07
Darling bought me momo again from vege shop, even it was not that good ones the owner said. These one from 山梨県, 170yen for one, he said it was because too many people want momo. Left them in fridge for whole day, had the big one as it is the next day, was juicy but really not sweet, and a bit damaged. The small one mix with yoghurt and momo jam the next day, it was even hard to peel some of the part, and a bit crunchy. Well, that's pretty much about momo this year.
2014.08.12
Surprisingly but not surprisingly, darling bought me momo again, big and expensive from Pantry to maximise my momo year, hope I won't get punished for having too much this year ;P 大糖領の桃 698 yen for a big one. Had it second day, left in fridge for a while. As shown in the picture, it's so dark color, and the skin on the top half was really hard to peel, that's why it didn't come out perfectly light pink color. Taste, sweet, not super though, but very meaty! Most meaty momo I have ever had I think, ones we had were very juicy and loose, this one is juicy and tight, like muscle. But in general quite good. Love my Darling, get so spoiled <3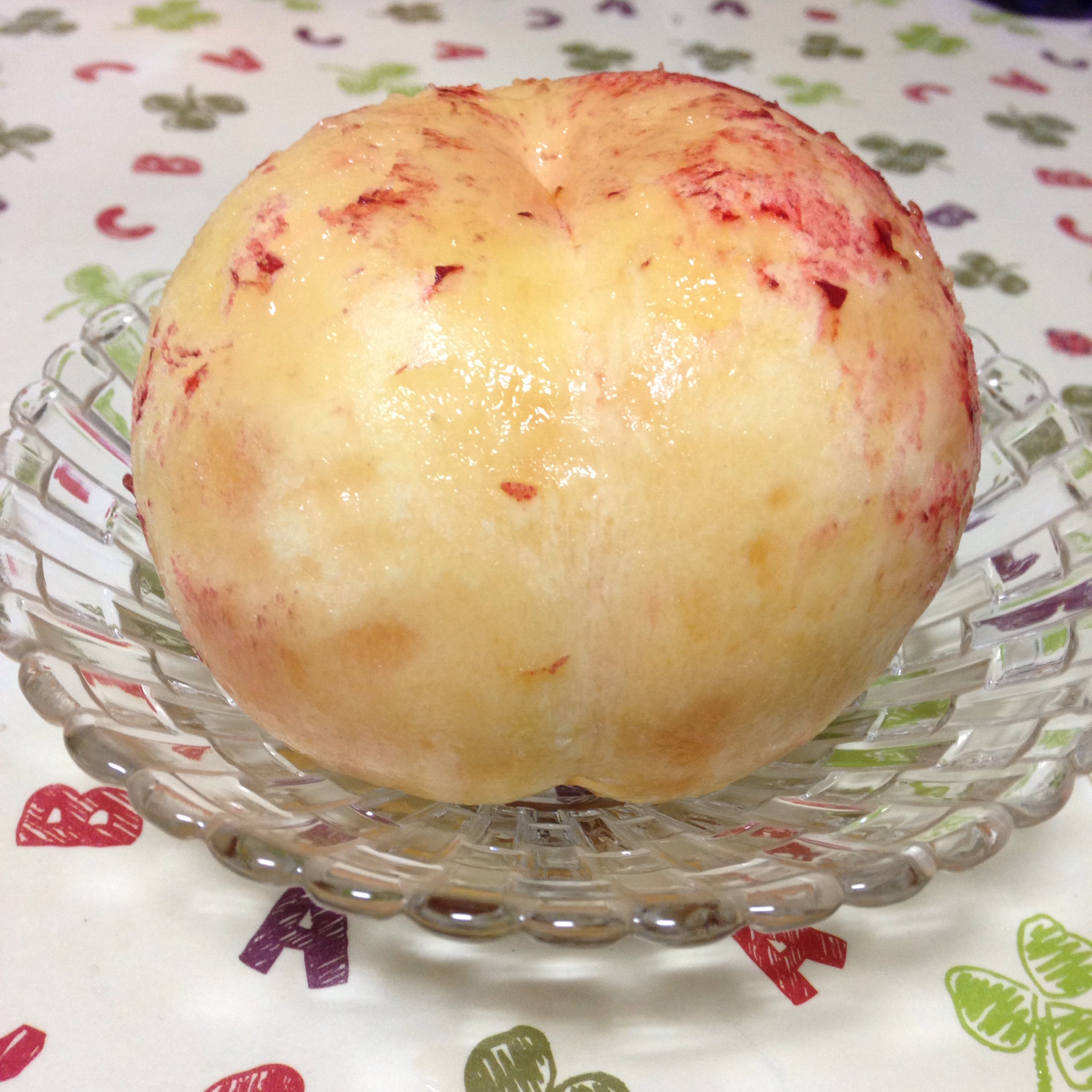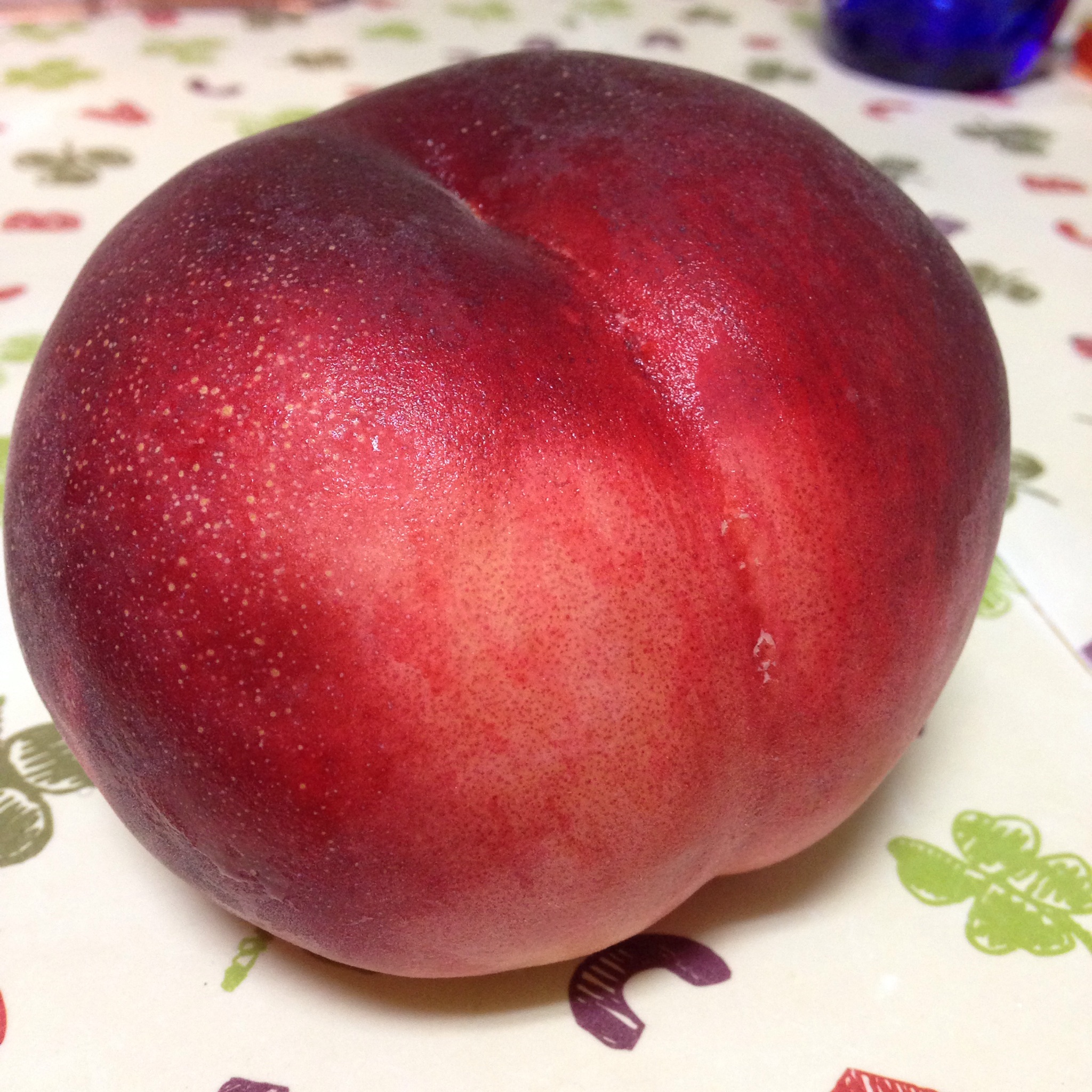 2014.08.14
While we visit Pantry every day this month, and since it's diseased families return holiday, darling bought me another two momo!!!! It supposed to be 水蜜桃, but somehow the package only have 山梨県 桃 on it, not sure whether we picked up the wrong one :8. Two for 1058yen, looking forwards to the taste today <3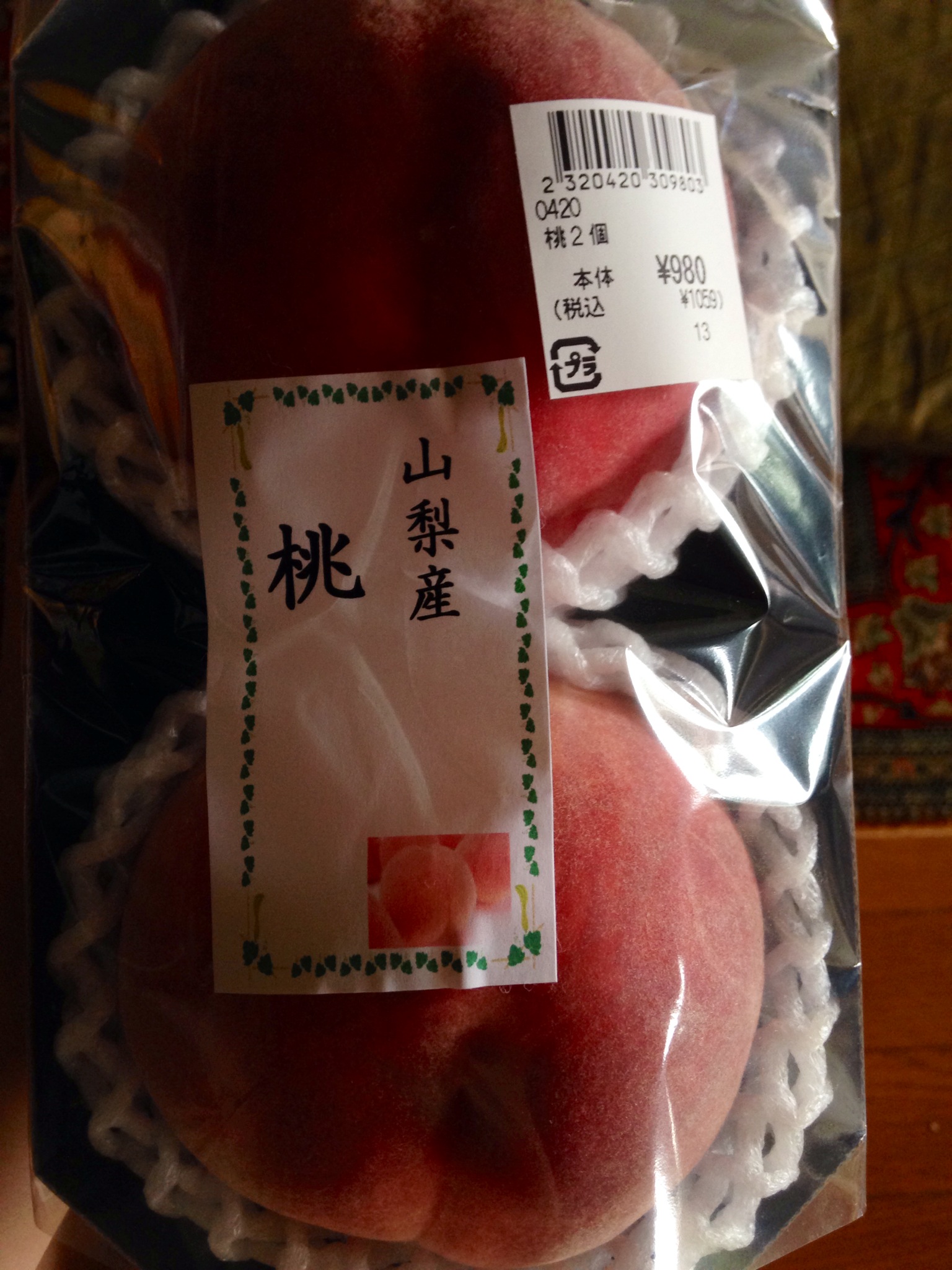 2014.08.16
At night, finally we have had the two "last" momo after refrigerate for a whole day. One of the bottom was a bit damaged, left it for too long I guess, since the shop people said it wasn't that good already, not to is of course. The skin got really weak, that couldn't be peeled as one piece since it melt already. Some parts on the side was okay, then on the top skin was too hard to come off just like that -,- However, these two were red meat momo, beside the very outside layer was like the others, the inside was really red. And the taste? I have to say, this has made a perfect "ending" for our year, it's sweeet like honey, meat just right, not too hard not too loose, we rank it first now, other than little ones from 滋賀県, love love love. But I love my darling more, he even said to buy me another one if there is any available! As sweet as this momo 幸せ<3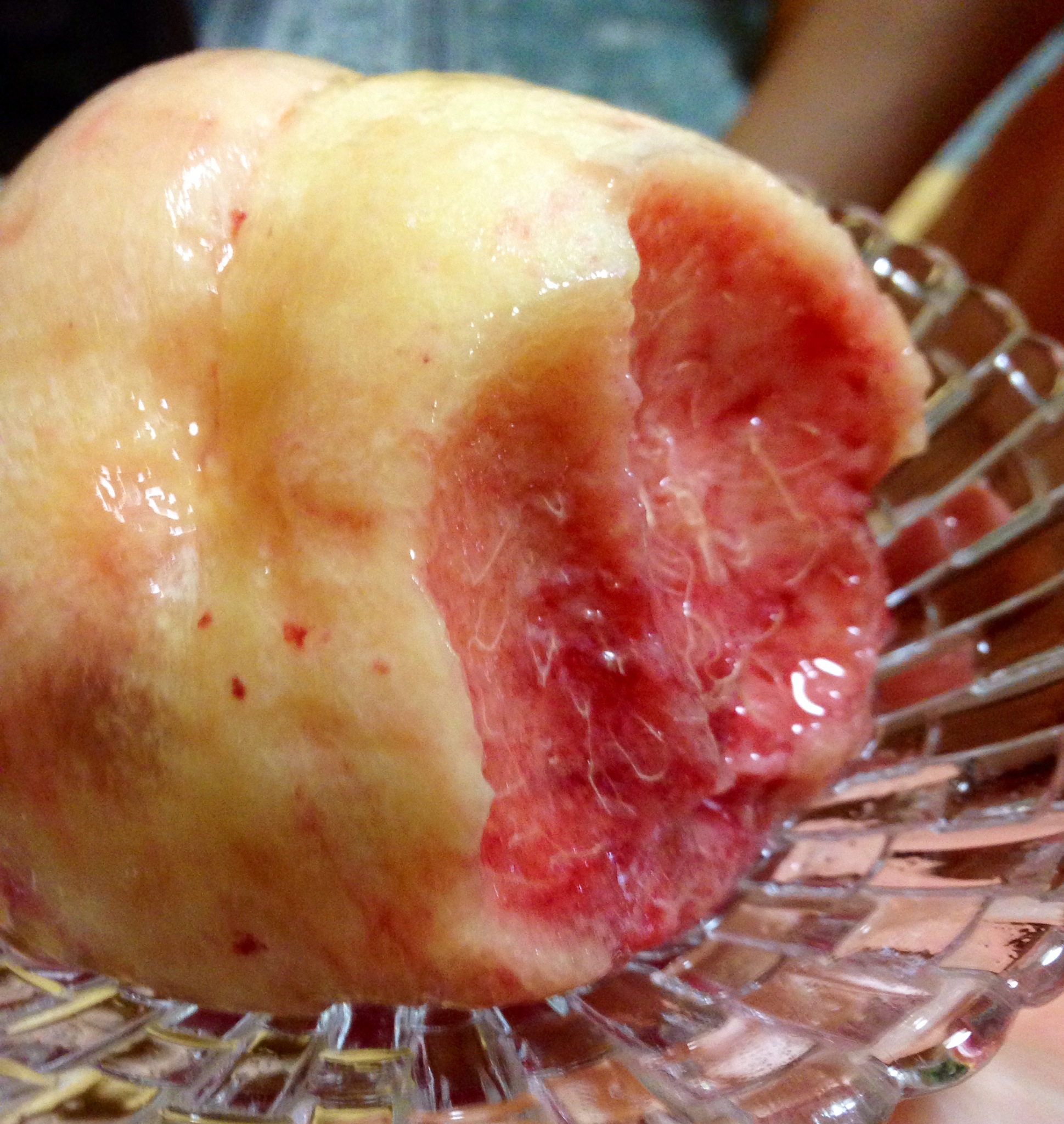 2014.08.22
For the real last time, darling got me the last couple of our current favorite momo from Pantry for ending the summer. Although the package and name were the same, the meat and texture varied quite a lot. It was mostly creamy color instead of fully dark pink inside, mommy said it looked old/color too dark, have it sooner; sweet but not as before; skin was as thin and hard to peel as before so I used knife to scratch it out. No pictures but love is always there.
Thank you with lots of love.